Trusted SSL
Our site possess a proper 1024–bit data encryption. You can purchase on our store safe in the knowledge that any personnel information is protected by our SLL certificate encryption.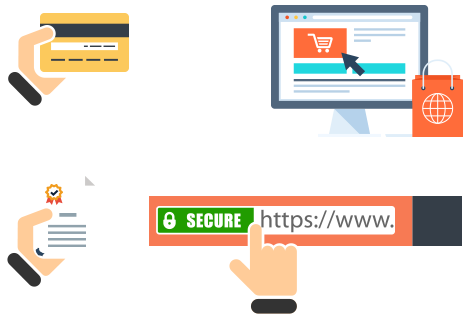 SSL certificates are very important for everyone running an online store – they are used to encrypt the connection between the visitor and the website, which is vital if the owner of the store plans to accept credit card payments. An SSL certificate will ensure that all the data sent from the user to the host server will be encrypted and can be read by the server only.
SSL certificates are also useful when it comes to login forms – they will ensure that the customer will log into a secured environment and that their username and password will be sent safely over the Internet.
What is it?
Secure Sockets Layer (SSL) is a cryptographic Internet protocol that provides a secure connection (an encrypted link) between a web server and a browser. This secure link ensures that all data transfered from the browser to the web server, and vice versa, is integral and private. Before transmitting the information via SSL secured page, it is coded with a unique key and after the information is received, the same key is used to decode the data. SSL is a standard security technology used by millions of web sites on the Internet. URLs that are secured with an SSL certificate start with https, instead of the common http.
You can tell you in safe hands by checking the page your on for the SSL secured by lock indicator usually present in front of the browser address field.